I have been using Linux forever. In 2003, I registered at Linux Counter.
.
I have been using tons of Linux distro's. I've started with Caldera, went on to RedHat and used Slackware for a while. After then I sorta stuck to Debian and Ubuntu. And recently I've found CrunchBang.
I think it's quite good.
Why CrunchBang is cool #!
lots of keyboard shortcuts
terminal here in the file explorer
easy software install fromt OpenBox menu
feels like home: #! is based on Debian Wheezy
Here's a review. I did some minimal tweaks, let's describe them below.
Conky
To use Conky to display keyboard shortcuts is brilliant for those with memory leaks. I've added some exta shortcuts for VIM, NERDTree and Terminator. Here is a link to my conkyrc.
Terminal emulator
The default terminal is Terminator. Here are the most basic keybindings, copied from the CrunchBang site:
Ctrl-Shift-o: Split the screen horizontally
Ctrl-Shift-e: Split the screen vertically
Ctrl-Shift-t: Open a new tab
Ctrl-Shift-w: Close the current terminal
Ctrl-Shift-q: Quit Terminator
Navigation:
Ctrl-Shift-n / Ctrl-Tab: Next terminal within tab
Ctrl-Shift-p / Ctrl-Shift-Tab: Previous terminal within tab
Ctrl-Pageup: Move to next tab
Ctrl-Pagedown: Move to previous tab
Shift-Pageup: Scroll back through the current terminal
Shift-Pagedown: Scroll forward through the current terminal
I decided to change the colorscheme to Solarized from Ethan Schoonover.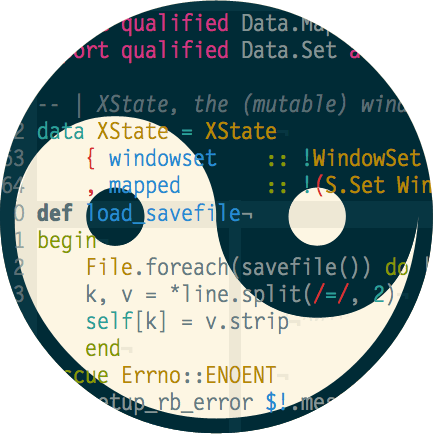 Here is the github repo with the config file for Terminator.
Vim
1




$sudo

 vim /etc/vim/vimrc

And uncomment 'syntax on'.
Next install Pathogen:
1




2




3




4




5




##copy and paste this in the terminal:







mkdir -p ~/.vim/autoload ~/.vim/bundle; 

\


curl -Sso ~/.vim/autoload/pathogen.vim 

\




    https://raw.github.com/tpope/vim-pathogen/master/autoload/pathogen.vim

Now install Solarized for Vim:
1




2




$ 

cd

 ~/.vim/bundle


$ 

git clone git://github.com/altercation/vim-colors-solarized.git

And install NERDTree
1




2




cd

 ~/.vim/bundle


git clone https://github.com/scrooloose/nerdtree.git

Now go ahead and creat a .vimrc:
Copy this in the .vimrc. This will set a statusline and line numbers. It activates pathogen and sets the colorscheme:
vimrc
1




2




3




4




5




6




7




set 

statusline

=

%<%F%h%m%r%h%w%y

\ 

%

{

&ff

}

\ 

%

{

strftime

(

\"

%c

\"

,getftime

(

expand

(

\"

%:p

\"

)))}

%

=

\ 

lin:%l

\,

%L

\ 

col:%c%V

\ 

pos:%o

\ 

ascii:%b

\ 

%P


set 

laststatus

=

2


set 

number
execute pathogen#infect

()


syntax 

enable




set 

background

=

light


colorscheme solarized

And the result will be this:
You can also choose the solarized-dark, but I think the light version is easier on the eye. Now you can go coding, be mighty productive and make lots of money. Or not.:)